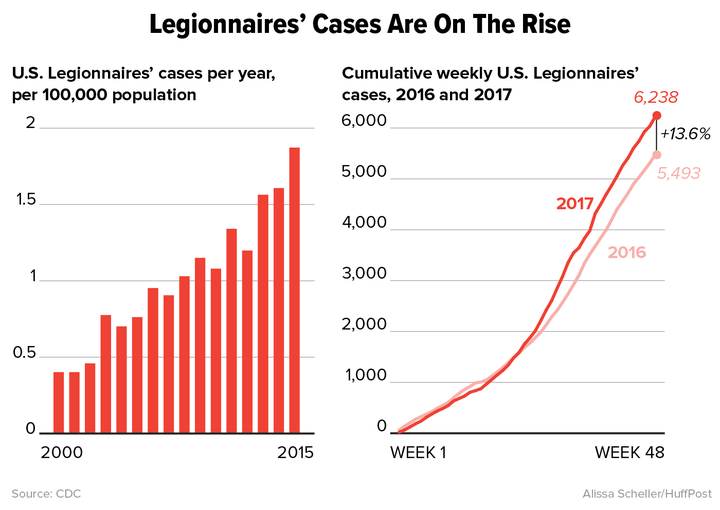 From New York to California, populations across the United States have an increased risk of a Legionnaires' disease outbreak.
Health officials are increasingly concerned about the continuous uptick of Legionnaires' disease cases, which have risen steadily since 2000.
While the waterborne bacterial disease is relatively rare ― with 6,238 cases nationwideso far this year ― there has been a 13.6 percent increase in cases since this time last year. That's nearly double the increase of 7.8 percent from 2015 to 2016 in the same time period.
The disease is not contagious. It's contracted when people breathe in water droplets contaminated with Legionella pneumophilia bacteria.
"A person acquires Legionnaires' disease from mist,"Julien Martinez, assistant press secretary at the New York City Department of Health and Mental Hygiene, told HuffPost in October. "Most cases of Legionnaires' disease can be traced to plumbing systems where conditions are favorable for Legionella growth, such as cooling towers, whirlpool spas, hot tubs, humidifiers, hot water tanks and evaporative condensers of large air-conditioning systems."
For most people, Legionnaires' disease is treatable with antibiotics, but it can cause severe respiratory illnesses or pneumonia and is fatal for about 1 out of every 10 people who contract it, according to the U.S. Centers for Disease Control and Prevention.
Experts point to a handful of factors when looking at the upward trend. The nation's aging population, which is more susceptible to the disease, and deteriorating infrastructure are top of the list. And the increased awareness of the disease and improved detection are contributing to the rise in identified cases, Dr. Chris Edens, an epidemiologist on CDC's Legionella team, told HuffPost.
Edens also pointed to the rise in temperatures nationwide ― with longer summers meaning more usage of cooling towers ― as another potential factor in the increase.
If you believe you or someone you know has been diagnosed with this disease, Contact us to see what we can do to help.
Jules Zacher is an attorney in Philadelphia who has tried Legionnaires' disease cases across the U.S.  Please visit LegionnaireLawyer.com again for updates.
Legionnaires' Disease Rising at Alarming Rate
was last modified:
January 3rd, 2018
by